Commercial Design Portfolio
Marilyn S. Hansen, FASID, NCDIQ, IIDA has completed more than 45 hospitality design projects. Over the course of the last 47 years, she has completed commercial design projects in Nebraska, Iowa, South Dakota, Minnesota, Missouri, Florida, California and Oregon.

Hotel projects consisted of new construction and renovation of existing properties, and ranged in size from 84 to 300 rooms. All projects contained design submittals to Hospitality Headquartered Design Teams for approval, such as IHG.  Her work includes the design of Ballrooms, Reception Areas, Lobbies, Restaurants, Breakfast Areas, Meeting Rooms, Fitness Centers, Pools, Public Restrooms and Guest Rooms. In many cases, Marilyn's work has included exterior design.
Projects in Hospitality, Commercial Design and Residential Design include:
o Governor's Residence of Nebraska Chairperson
o Kinseth Hospitality
o Creighton Jesuit Residences
o Coronado Condominiums
o Regency Apartments
o Farmers and Merchants National Bank in Ashland, Nebraska
o First National Bank in Council Bluffs, Iowa
o Grandmother's Restaurant
Hotel Projects Include:
Radisson Hotels
Coralville, Iowa | ASID Silver Award for Contract-Hospitality, 2016
Holiday Inn Express
• Pella, Iowa/Public Spaces
Holiday Inn
• Dubuque, Iowa/Complete Hotel
• Urbandale, Iowa/Complete Hotel
• Des Moines- Mercy Campus, Iowa/Restaurant and Public Spaces | ASID Silver Award for Contract-Hospitality, 2013
• Des Moines- Drake University, Iowa/Public Spaces
• Cedar Falls, Iowa/Public Spaces
• Coralville, Iowa/Complete Hotel
• Rock Island, Illinois/Complete Hotel
• Wichita, Kansas/Complete Hotel
• Overland Park, Kansas/Complete Hotel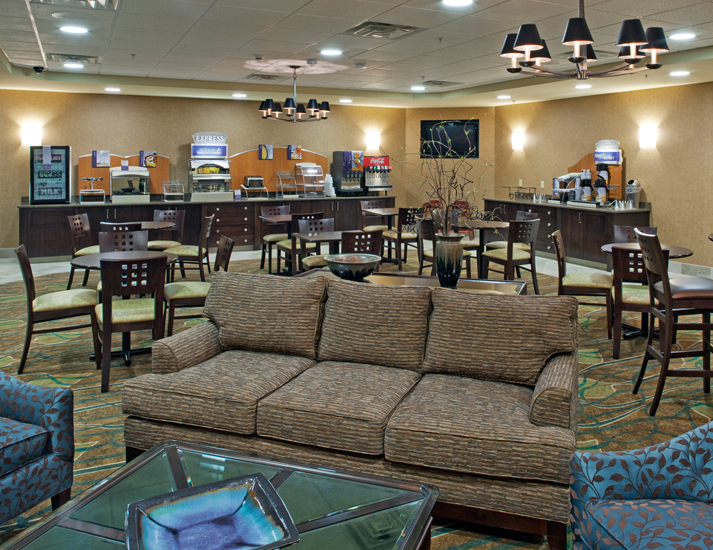 • Grand Island, Nebraska/Complete Hotel | ASID Gold Award for Contract-Hospitality, 2011
Hilton and Hilton Garden Inn Pavilions
• Iowa City, Iowa / Complete 12-Story Hotel | Winner of ASID Silver Award for Contract-Hospitality, 2018
• Independence, Missouri/Public Spaces
• Council Bluffs, Iowa/Public Spaces
• Omaha, Nebraska/Renovation
• Bettendorf, Iowa/Public Spaces


Hampton Inn
• Lincoln, Nebraska/Complete Hotel
• Grafton, Illinois/Complete Hotel
• Council Bluffs, Iowa/Complete Hotel
• Des Moines, Iowa/Complete Hotel
• Dubuque, Iowa/Public Spaces
• Mason City, Iowa/Complete Hotel
• Minooka, Illinois/Complete Hotel
Marriott Hotels
• Columbia, Missouri/Public Spaces
• Ankeny, Iowa / Public Space
• Bellevue, Nebraska / Convention Center
 Homewood Suites
• Ankeny, Iowa/Complete Hotel
• Des Moines, Iowa, Complete Hotel
Home 2
• Omaha, Nebraska/Public Spaces
• Brookfield, Wisconsin / Public Spaces
King's Pointe
• Storm Lake, Iowa / Public Spaces

Marilyn has extensive experience working with architects. Some of her collaborations include:
Joe Kreski  A.I.A.

Bruce Frazier, A.I.A.

Stan How Jr., F.A.I.A.

Michael Purdy, A.I.A.

Susan Rohrig, A.I.A.

Robert Perrin, A.I.A.

Kevin Hanson, A.I.A
Testimonial
"I have been using The Designers for the last twenty years for both residential and commercial properties.  Our commercial properties include a portfolio of many branded hotels such as Marriott, Hilton, and Holiday Inn to name a few. The Designers and in particular, Marilyn Hansen, have come up with unique and innovative designs for our hotels that meet the traveler expectations.    We have received several awards and recognition for Outstanding Design for several of our properties.   Marilyn has also helped me on a personal level as well, with my French Country Home.   I have been impressed with the quality of furnishings she carries.  My home is not just decorated, but has the look of an upscale designer.  I have been very happy with her professionalism, overall talent and the passion she brings to any project.  I enjoy working with her and her team." – Linda Skinner, Kinseth Hospitality