Accessible Living
A bathroom gets an accessibility makeover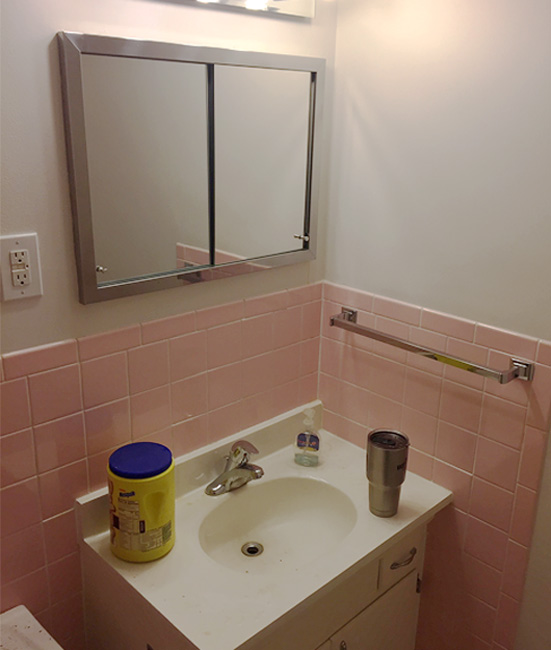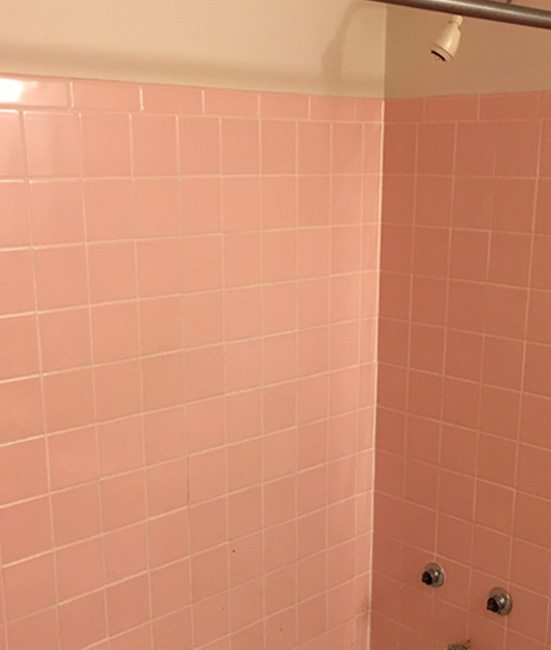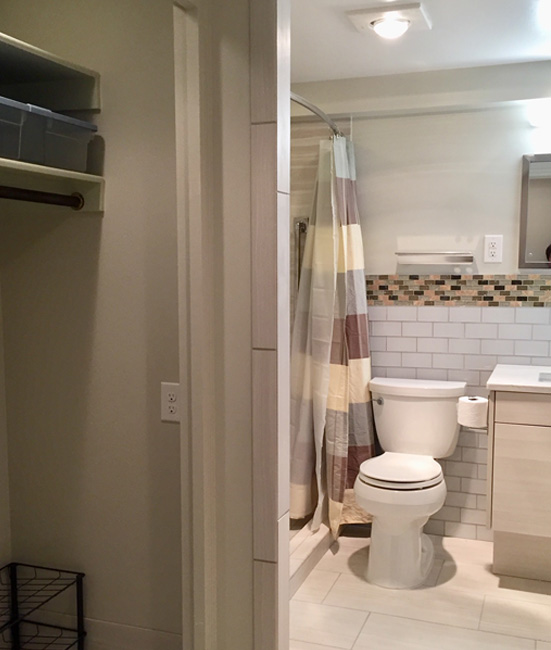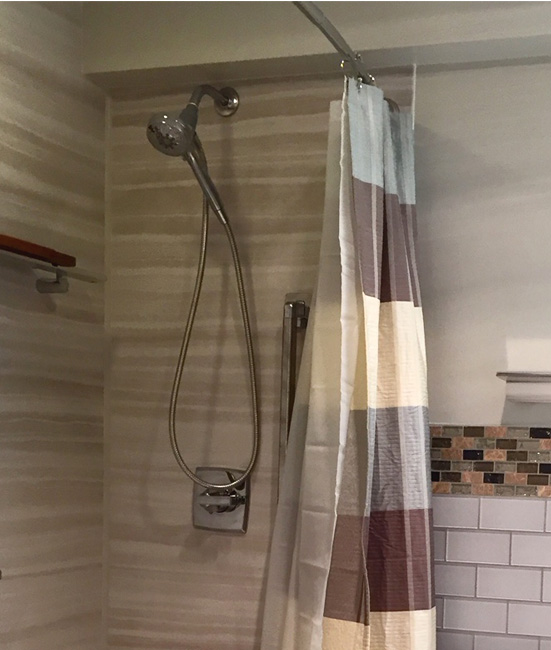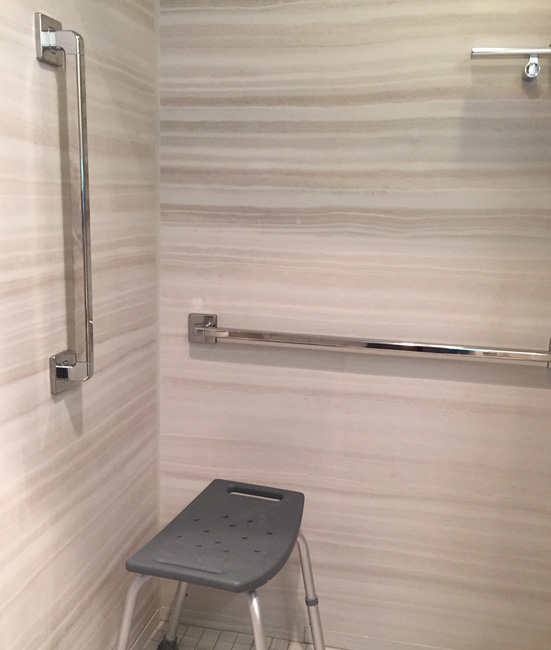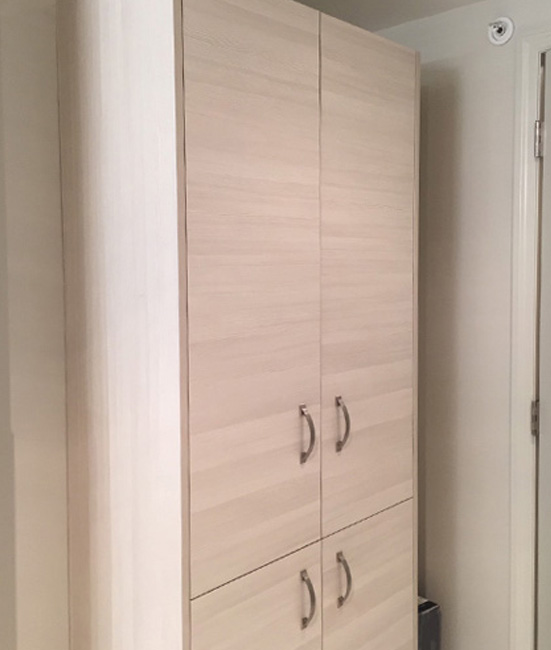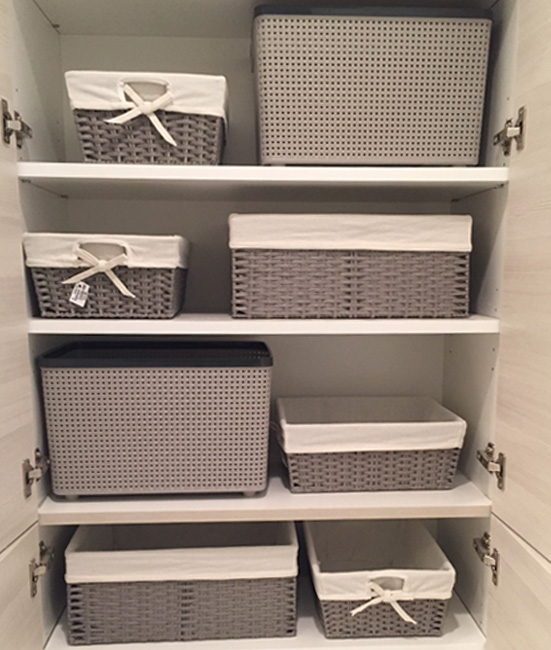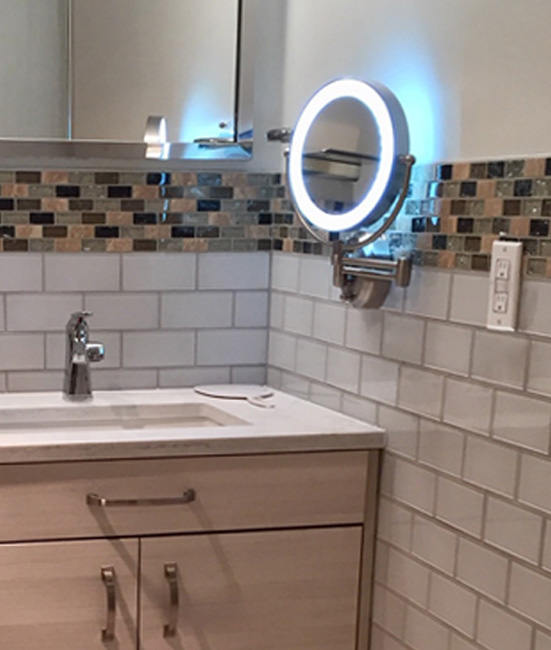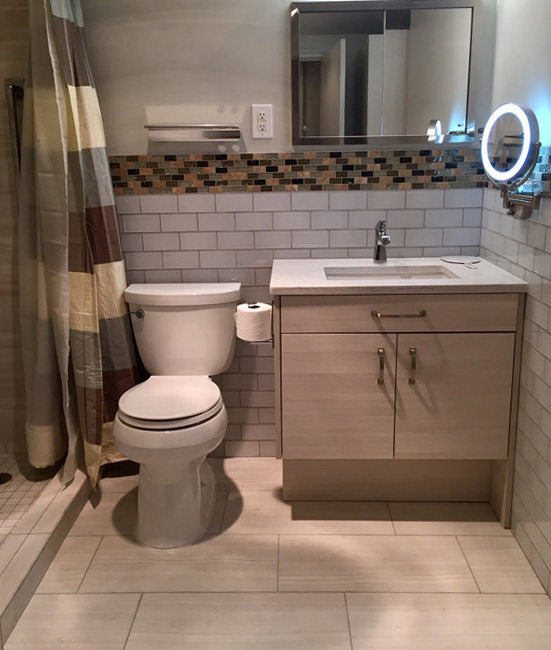 "Aging in place" describes the desire to stay in your home as you age. Familiar surroundings can become uncomfortable, though, as physical ability changes. We took on this bath in an apartment in Elmwood Tower for a client who wanted to refresh his bathroom with accessible features.
The Elmwood Tower is a 22-story building in the heart of Omaha, Nebraska. It's a popular place for retirees. It features great views, is close to healthcare, shopping and has a convenient parking garage. 
This bathroom was actually fairly generous, with a closet/hallway on the way into the bath. Keeping the future in mind, it was essential that these living quarters be focused on accessibility. Great care was taken to widen the doorway to the hall. The bath tub  was removed, as was a second door that led  to the bathroom. Happily, this created more space for a wheelchair, should the need arise.
The interior was typical late 1960s. Pink tile walls covered the room.The bathroom floor was a combination of small mosaics in pink, white, grey and green. It certainly was not a delightful color scheme for our modern design focus. 
Early in the design process, we discovered shower panels by Kohler. They are beautiful and impervious to mold and mildew. The ease of cleaning the shower panels is also extremely helpful when maintaining a bathroom with minimal cleaning assistance.
The color scheme suggested by the panel material is a soft sand dune or Travertine color. Working with this color scheme, we chose a glass mosaic tile that would unify all of the colors used in the bathroom. We complemented the mosaic with a soft green/white glass subway tile. A new high-rise toilet was chosen for added accessibility.
All of the original tile was removed. Reinforced areas were added in the shower walls to provide backing for installation of balance bars.  This was a particularly difficult project due to the fact that we had to meet more stringent commercial building codes. The plumbing was original to the building and required tremendous updating. A hand held shower head was selected for accessible ease of use and for cleaning the shower.A dam was still required at the shower floor because the shower floor could not be lowered. Even the lighting had to meet commercial codes. 
The closet and wardrobe provide ample  storage in close proximity to the bath. The wall colors of soft gray green extended the tones of the shower panels and provided a backdrop to accent  the mosaic tile.
Shower doors are not as easy to maneuver through when accessibility is required,. In this case we chose a shower curtain that unified all the colors of the interior. Lighting was color selected to 2700 Kelvin and uses LED light sources.
The space is now a delightful place for our client. Thoughtful consideration of accessibility and design make it an easy place to enjoy.