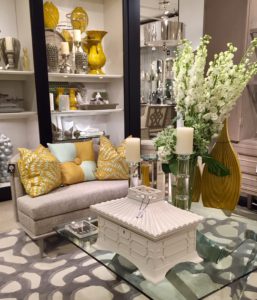 We are in the midst of a new interior design development. People are becoming enamored with gold and golden metallic accents. We have been using silvers – especially in the stainless steel and nickel finishes – for the past 15 plus years.
Now, there are warm tones of gold being offered in an amazing variety of products. The color seems exciting and fresh. I noticed a lot of enthusiasm for the metallic in fabrics, as well as metal finishes, in this welcome change at Market.
There are pros and cons of following a trend. New trends can be confusing and difficult, if not expensive.
Twenty years ago, I watched brass companies disappear from the International Home Furnishings Market. Some showrooms specialized in only brass. Their sales slowed so extremely that many went out of business. I'm sure some sold brass accessories in other countries, but the United States followed the silver-tone trend so completely that domestic sales faded away.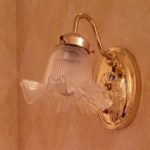 I am reminded of a homeowner who changed all of their brass hardware to brushed nickel at the suggestion of a realtor, who felt the home would sell better if the brass door hardware was removed. Surprisingly, she was correct.
The hardware in your home is an expensive decision. I don't think the trend toward gold will be so extreme that every silver-toned item needs to be replaced, but there is room for both, if the tones are complimentary.
For example, grey tones have taken over in paint, carpet, and upholstery. Even cabinet colors have left white-whites behind for grey tones, both light and dark. Now, to be on trend, you can add a touch of gold to cool grey interiors to bring warmth to your room.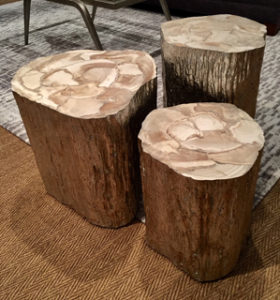 Perhaps you have been reluctant to lose that one last gold accessory. Now is your chance to pull it back out of hiding. Careful – you need to consider the style and hue of the gold. This new gold is warmer and less yellow. That brassy gold tone can still come across as harsh and won't do the trick.
It's worth the effort to add a little gold, especially during the holiday season. Sparkle and warmth are so appropriate during the darker days of December.
Curious as to whether you keep or toss your golden treasure? Send me a photo of your cherished piece and I'll give you my thoughts.
That's another design secret just for you!
Happy Sparkling!
Marilyn S. Hansen, FASID