The 2023 trend is all about copper tones along with orange and light coral colors. There's a move away from bright red and pink accent colors.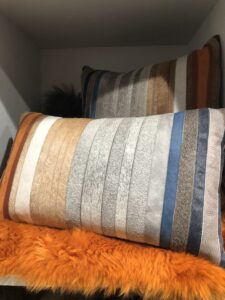 Metallic finishes and textures find their way onto everything from pillows to walls.
Toss pillows can refresh and brighten any room. This year's popular styles include fabrics in shades of copper, coral, orange, and gold. Warm tones are just what you need to bring the cozy factor into a room.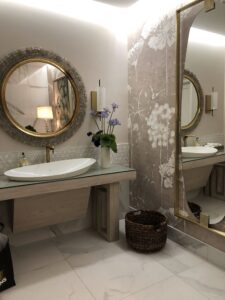 Metallic finishes aren't just for fabrics. This bathroom design has metallic wallpaper, plus a gold metallic finish on the inner rim of the mirror. The outer dark textured rim of this spectacular mirror is made of ocean-tossed sea glass And the large oval sink? That's a show-stopper.