If you're considering replacing a floor or cabinets, the color of the woodwork has a considerable impact on the look and feel of a room. What's on-trend, and what will be popular until the next time you remodel or replace flooring?
For some time, we have been entranced by dark walnut colors and even black wood finishes. Trends aren't supposed to last forever; now, the interest in darker tones is beginning to wane. In a recent survey, 46% of the respondents said they are now focused on medium-toned woods. The popularity of dark stains slipped to 36%; lighter stains were preferred by only 18%.
Other experts express different preferences. So, what's a homeowner to do? Start by thinking about the feel of the room. While dark woods are great if you're planning a high-contrast color scheme (such as white walls and espresso-toned flooring), dark floor tones show dust more easily. And, while dark woods can make a room look cozy, they can also look heavy when there is a large expanse of dark flooring and paint and accessories are also in darker tones.
Medium and lighter-toned woods can add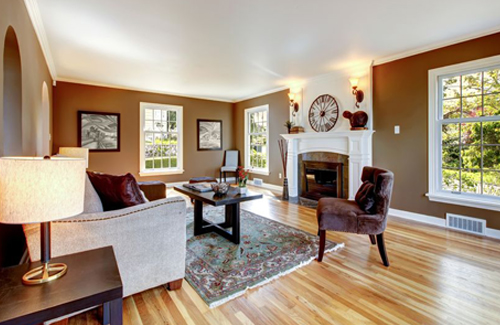 brightness to a room, and may be the best choice if you want to make a style statement that's more in the middle of the road. Darker-toned accessories can be used with medium tones to create contrast and interest.
And grey? Are we done with that as a flooring choice? Not yet, say some experts. Neutral grey tones still have staying power, and some observers expect the trend to last for at least five more years.